Autour de
LESLIE GREENE
(exposition / C'EST UN JARDIN... / en juin 2004)

nous recevons :
SUSAN BOTTRELL, COLLEEN HILL-BATAILLE et X.X.
du 30 janvier au 16 février 2007,
du mardi au vendredi de 13 h à 19 h
Exposition /COFFEE CLUB/
Vernissage le samedi 27 janvier de 16 h à 20 h.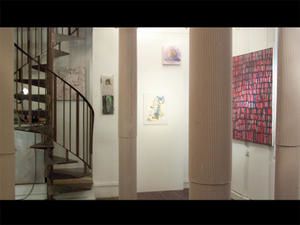 4 femmes,
4 mères,
4 peintres,
4 américaines à Paris,

partagent 4 textes littéraires :
My life had stood-a loaded gun-
In corners-till a Day
The Owner passed-identified-
And now We roam in Sovreign Woods-
And now We hunt the Doe-
And every time I speak for Him-
The Mountains straight reply-
And so I smile,such cordial light
Upon the Valley glow-
It is as a Vesuvian face
Had let it's pleasure through-
And when at Night-Our good Day is done-
I guard My Masters Head-
'Tis better than the Eider-uck's
Deep Pillow-to have shared-
To foe of His-I'm deadly foe-
None stir the second time-
On whom I lay a Yellow Eye-
Or an emphatic Thumb-
Though I than He-may longer live
He longer must-than I-
For I have but the power to kill,
Without-the power to die-
Emily Dickinson
Texte proposé par Susan Bottrell

An accident is when a thing happens.A coincidence is when a thing is going to happen and does.
Gertrude Stein
Texte proposé par Leslie Greene
"The Drops of rain make a hole in the stone not by
violence but by oft falling."
written by LUCRETIUS (Roman Poet) Excerpt taken from
his epic "On the Nature of the Universe" c.99-c.55 BCE
Texte proposé par Colleen Hill
Everyday,
Rain,shine,or overcast,
He sits on a rock to read and dream.
He has no friends,no enemies,
He lives in peace.
No one knows anything about him.
Not even his name.
Tomi Ungerer
Texte proposé par X. X.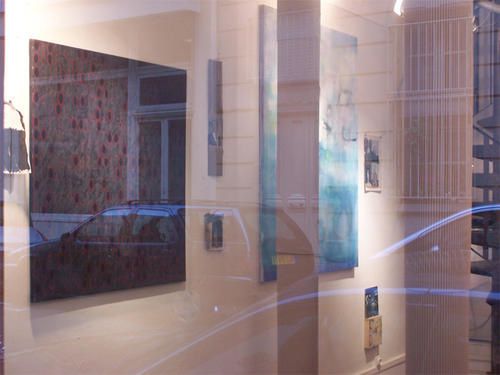 Leslie Greene http://leslie.greene.free.fr
Susan Botrell http://susanbottrell.uing.net
Colleen Hill-Bataille www.colleenhillbataille.com